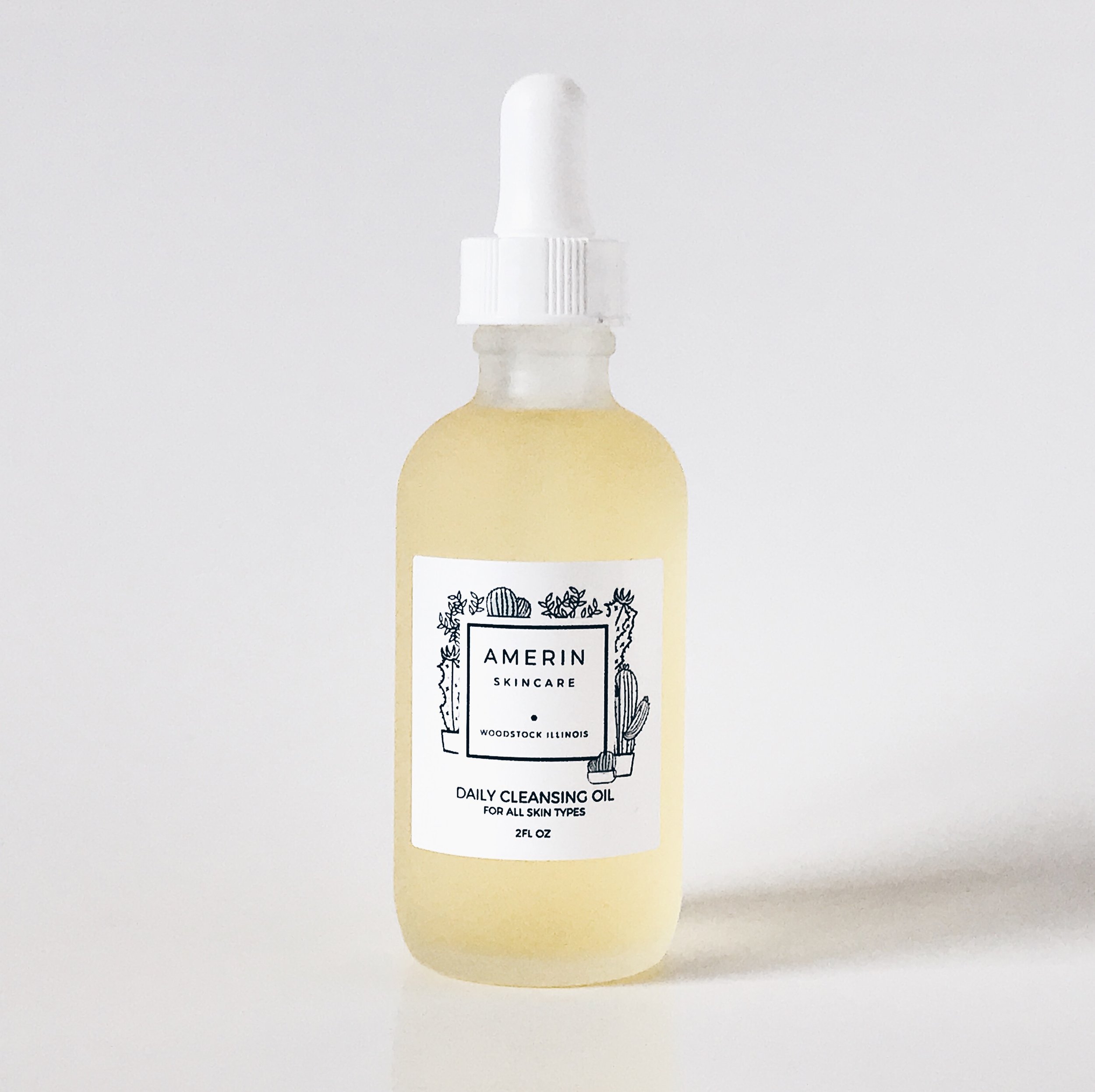 Daily Cleansing Oil
Daily Cleansing Oil 2oz (60ml)
The Daily Cleansing Oil cleanses and tones the skin, and removes makeup in a snap helping to make your skincare routine minimal, meaningful, and just that much easier. Balanced, moisturized, supple skin, and an improvement in overall skin texture is what this cleanser offers. Beneficial for all skin types.
Cleansing oils are based on the chemistry principles of like dissolves like and what we like to call fighting fire with fire. Water and oil don't mix so we use antibacterial oils like castor and grapeseed oils to dissolve the oil in the pores and replace them with fresh nourishing oils high in vitamins and essential fatty acids that work hard to balance and leave the skin feeling refreshed, and toned. We call it the ultimate balancer because it balances combination and oily skin, rehydrates dry skin, and calms acneic skin. The daily cleansing oil is used to cleanse, tone the skin, and even remove makeup all while keeping things balanced.
Directions:
Dispense a small amount into hands and apply to your dry face in gentle circular motions. Using a warm damp washcloth gently wipe face clean. For a quick clean option- apply to your dry face, jump in the shower and rinse with water. Gently wipe dry after showering. To remove makeup and cleanse at the same time- Dispense a small amount into hands and apply to your dry face over makeup in gentle circular motions. Gently massage onto the eyelashes and eye area to remove eye makeup. If wearing extra mascara you may find that you need to apply a little extra to the eye area. Using a warm damp washcloth gently wipe face clean.
Ingredients:
Organic Grapeseed oil (vitis vinifera)- Light oil high in vitamin D,C, E, and essential fatty acids. This oil has anti-inflammatory and astringent properties, which is great for oily, acne prone, and aging skin.
Organic Castor Oil (ricinus communis)- Helps to dissolve oil in the pores and retain moisture in the skin. Castor oil naturally contains undecylenic acid, which is highly antibacterial.
Organic Jojoba Oil (simmondsia chinensis)- Closely resembles the sebum of the skin and is easily absorbed. Rich in vitamin E helping to nourish the skin, repair, and prevent dryness.
Organic Apricot Kernel Oil (prunus armeniaca)- Nourishing oil that is very rich in vitamin A, B7, C, E and essential fatty acids. Helps the skin retain elasticity and suppleness and aids in reducing inflammation.
Organic Sunflower Seed Oil (helianthus annus)- High in vitamin A, B, D and E, minerals, lecithin, and essential fatty acids. Excellent skin conditioner, especially beneficial for dry, damaged skin.
Organic Lavender Essential Oil (lavendula angustifolia)- Beneficial for easing inflammation and acne. Renowned for its cell regenerative properties.
Organic Lemongrass Essential Oil (Cymbopogon citratus)- acts as an astringent, which constricts the skin. This helps to minimize pores, limit the secretions of oil, and provide a temporary skin-firming treatment.
Organic Vitamin E Oil (mixed tocopherols from soybeans)- antioxidant and used as a natural preservative.