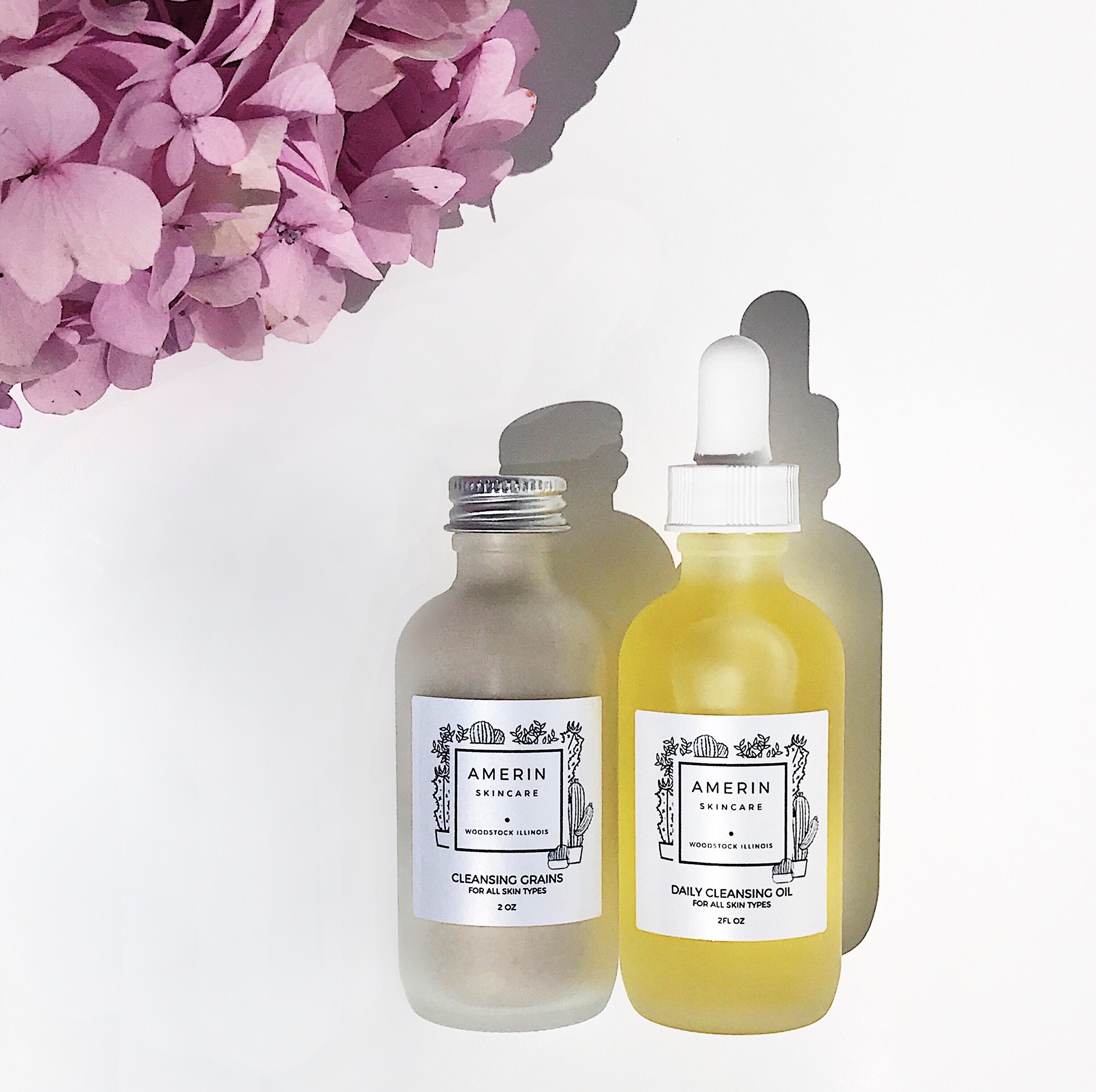 Naturally Clean Bundle
Who said taking care of your skin had to be complicated? Definitely not us! We make it easy for you with our Naturally Clean Bundle. Cleanse, balance, tone, remove makeup, and gently exfoliate in two easy steps with your Daily Cleansing Oil and Cleansing Grains. Included is one of our Organic Hemp Washcloths FREE with purchase so you can get the most out of your Naturally Clean experience.
Naturally Clean Bundle includes- Daily Cleansing Oil 2floz/60ml Cleansing Grains 2oz/60ml, and your FREE Organic Hemp Washcloth.
Daily Cleansing Oil
A blend of luxurious premium organic oils formulated to help dissolve oils in the pores and replace them with fresh and nourishing oils that work hard to pamper your skin without stripping or drying it out. Do you wear makeup? The Daily Cleansing Oil removes makeup in a snap making night time routines that much easier. Balanced, moisturized, supple skin, and an improvement in overall skin texture is what this cleanser offers. Beneficial for all skin types.
Directions: For best results use morning and evening. Apply to a dry face. Using 5-6 drops, massage for 15-20 seconds. Wet a washcloth or cotton pads with warm water and wipe face clean. For a quick clean option apply to your dry face before showering, rinse with water and wipe down. If cleansing to remove makeup as well you may need to reapply to the eye area to remove stubborn eye makeup. If used as recommended Daily Cleansing Oil will last 5 months.
Ingredients:
Organic Grapeseed oil (vitis vinifera)- Light oil high in vitamin D,C, E, and essential fatty acids. This oil has anti-inflammatory and astringent properties, which is great for oily, acne prone, and aging skin.
Organic Castor Oil (ricinus communis)- Helps to dissolve oil in the pores and retain moisture in the skin. Castor oil naturally contains undecylenic acid, which is highly antibacterial.
Organic Jojoba Oil (simmondsia chinensis)- Closely resembles the sebum of the skin and is easily absorbed. Rich in vitamin E helping to nourish the skin, repair, and prevent dryness.
Organic Apricot Kernel Oil (prunus armeniaca)- Nourishing oil that is very rich in vitamin A, B7, C, E and essential fatty acids. Helps the skin retain elasticity and suppleness and aids in reducing inflammation.
Organic Sunflower Seed Oil (helianthus annus)- High in vitamin A, B, D and E, minerals, lecithin, and essential fatty acids. Excellent skin conditioner, especially beneficial for dry, damaged skin.
Organic Lavender Essential Oil (lavendula angustifolia)- Beneficial for easing inflammation and acne. Renowned for its cell regenerative properties.
Organic Lemongrass Essential Oil (Cymbopogon citratus)- acts as an astringent, which constricts the skin. This helps to minimize pores, limit the secretions of oil, and provide a temporary skin-firming treatment.
Organic Vitamin E Oil (mixed tocopherols from soybeans)- antioxidant and used as a natural preservative.
Cleansing Grains
Soften, smooth, and help increase circulation with a delicate blend of Earth's fine and naturally effective grains, leaving your skin feeling rejuvenated, glowing, and soft. Exfoliation is such an important step in maintaining healthy skin. Oils and impurities become trapped under the skin and exfoliation is key. Let our Cleansing Grains do the work and your skin will thank you.
Directions: 3-4 times per week after cleansing with your Daily Cleansing Oil, wet face and pour a small amount of Cleansing Grains into your hand. Add a few drops of water, mix into a paste with your fingers, and apply onto skin using gentle circular motions avoiding the delicate eye area. Rinse with warm water and pat dry. In a rush? After applying the Daily Cleansing Oil, wet face and apply your Cleansing Grains mixed with water on top of your Daily Cleansing Oil with gentle circular motions, rinse with water, and pat dry. Important: Keep the unused portion dry to preserve the freshness.
Ingredients:
Naturally and sustainably sourced cleansing White Kaolin Clay
Gentle exfoliating Organic White Rice Powder and Organic Coconut Flour
Softening and calming Organic Calendula Flower Powder
Moisturizing Organic Aloe Vera (barbadensis powder)