Nourishing Facial Oil Combination to Oily Skin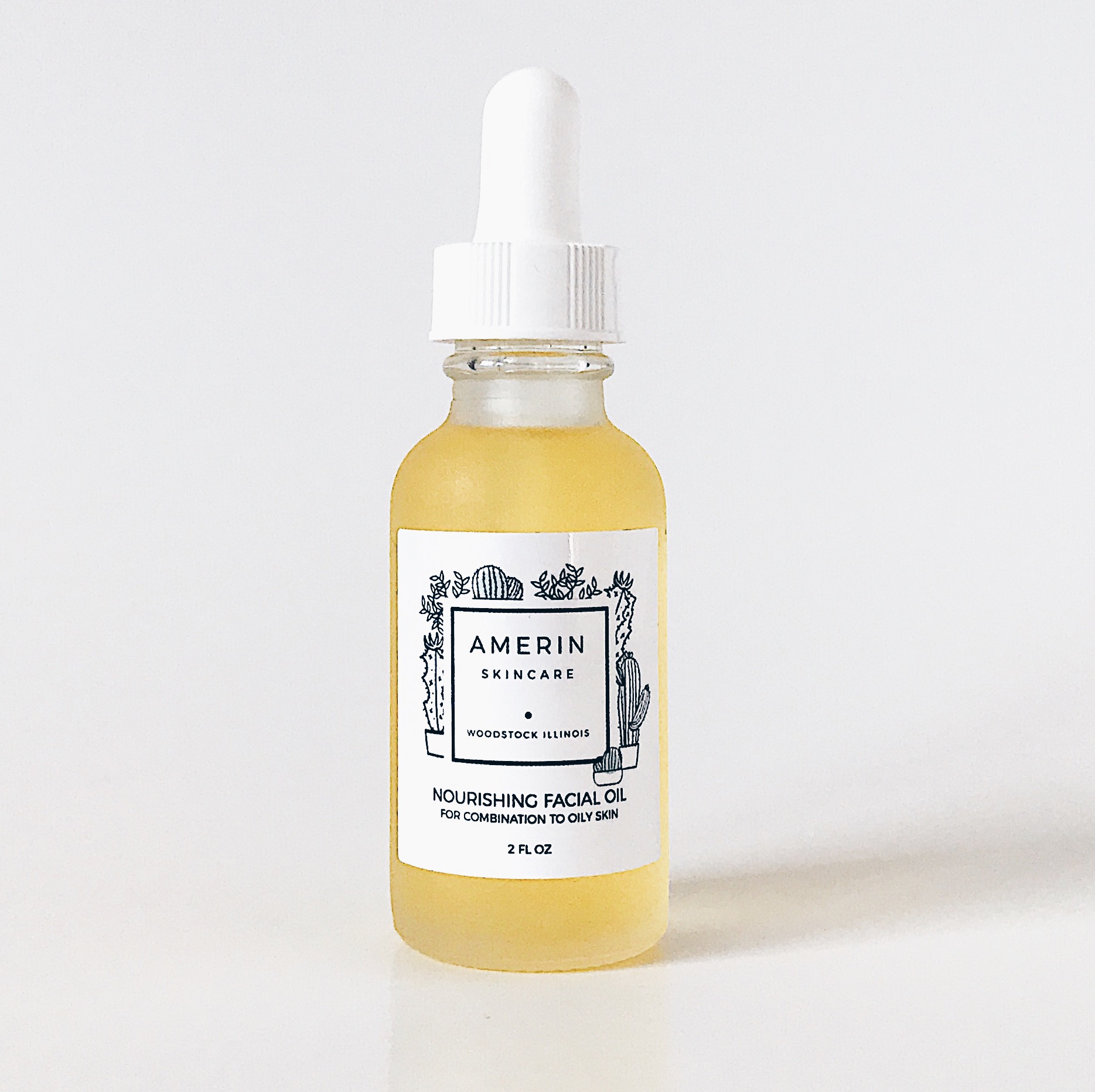 Nourishing Facial Oil Combination to Oily Skin
Nourishing Facial oil combination to oily skin, 1 fl oz, 30ml
Moisturizing oil formulated to balance and nourish your skin with all of the necessary vitamins, antioxidants, and essential fatty acids to help repair, regenerate, protect, and perfect, using easily absorbing, thinner organic oils.
Do you have combination to oily skin? If your skin looks shiny, and feels oily shortly after cleansing, you have medium to large pores on your face, are prone to acne or breakout during hormone cycles, or if your skin seems to be a combination of oily in some areas like the T- zone and dry in others, the Nourishing Facial Oil for Combination to Oily skin is for you.
This moisturizing oil is formulated to nourish your skin with all of the necessary vitamins, antioxidants, and essential fatty acids to help repair, regenerate, protect, and perfect using Earth's powerful, pure, nutrients, giving you incredible anti-aging and nourishing benefits.The oils present in our nourishing facial oils have some of the highest contents of vitamins A, C, D, essential fatty acids, and antioxidants. The antioxidants and punicic acid found in pomegranate seed oil helps with collagen production and cell regeneration, while evening primrose brightens skin with high amounts of vitamin C and calm with anti-inflammatory properties. Easily soaking into skin, you only need 3-4 drops and will last you 5 months of use.
Directions: Best used nightly. After cleansing apply a few drops and massage over clean face and neck. For additional nourishment add a few drops to your moisturizer. If used as recommended Nourishing Facial Oil will last 5 months.
Ingredients:
Organic Jojoba Oil (simmondsia chinensis)- Rich in vitamin E and closely resembles the sebum of the skin helping to nourish the skin and prevent dryness.
Organic Grapeseed oil (vitis vinifera)- Light oil high in vitamin D,C, E, and essential fatty acids. This oil has anti-inflammatory and astringent properties, which is great for oily, acne prone, and ageing skin.
Organic Pomegranate seed oil (Punica granatum)- High in antioxidants, flavonoids, and punicic acid. Helps with collagen production, cell regeneration, and brightens skin tone.
Organic Baobab seed oil (adansonia digitata)- Rich in vitamins A, D, E and essential fatty acids. It absorbs easily in to the skin, improves tone, elasticity, helps to regenerate and renew skin cells.
Organic Evening Primrose oil (oenothera biennis)- high in vitamin C, E, and rich in Omega-6 fatty acids with incredible anti-inflammatory and healing properties.
Organic Apricot kernel oil (prunus armeniaca)- Nourishing oil that is very rich in vitamin A, B7, C, E, and essential fatty acids. Helps the skin retain elasticity and suppleness and also aids in reducing inflammation.
Organic Lavender essential oil (lavendula angustifolia)- Beneficial for inflammatory conditions. Renowned for its cell regenerative properties.
Organic Vitamin e oil (mixed tocopherols from non GMO soybeans)- Antioxidant and is used as a natural preservative.
AMERIN SKINCARE,
Clean skincare, with a clean conscience.
All of our products are handmade just for you in Woodstock, Illinois.
We care about where our ingredients come from and make sure to use fair trade and sustainably sourced ingredients as often as we can. With every purchase we give back 1% to Feeding America as well as additional donations to organizations like Girls Who Code. So, thank you for supporting us by shopping with us, and thank you for helping us do good, now it's time to look good and feel good!
*All products are made to order, just for you, so scents and colors may vary due to the natural and organic ingredients we use. Please be sure to patch test first and keep all products in a cool dry place.